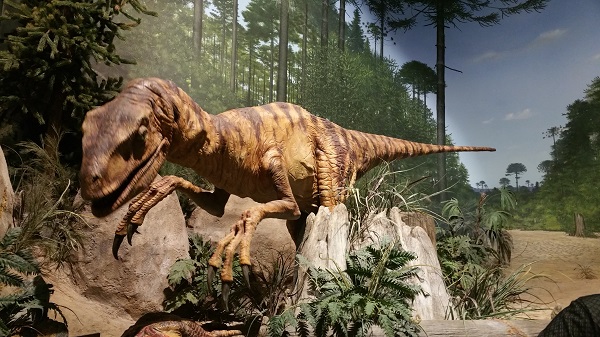 The title is of course a play on the line from Shakespeare's play Romeo and Juliet, where Juliet laments the fact that her new found love Romeo is from the family of Montague. The two families, the Montagues and Juliet's family, the Capulets, have been feuding for some time, which sometimes erupted into dueling. The animosity between the two families sets the background for the play. Juliet expresses her dismay with the famous discourse that begins with "O Romeo, Romeo, wherefore art thou Romeo?" and includes the lines:
'Tis but thy name that is my enemy;
Thou art thyself, though not a Montague.
What's Montague? It is nor hand, nor foot,
Nor arm, nor face, nor any other part
Belonging to a man. O, be some other name!
What's in a name? That which we call a rose
By any other name would smell as sweet;
Juliet's well put and clear meaning being that Romeo would still be Romeo if he were called by any other name. Which is where we pick it up concerning dinosaurs.
Dinosaurs by Any Other Name are Still Dinosaurs
I originally wanted to call this article "Dragons are Dinosaurs." But dinosaurs are also called by other names and perhaps just as importantly the term "Dinosaur" is limited to land-dwelling creatures, but I want to cover flying and swimming creatures as well. Continue Reading