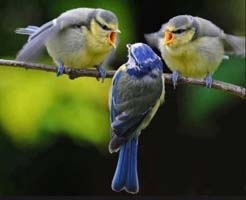 Among Christians there should be no questions or debates about the origins of life, the earth or the universe.

At the end of the Up  for Debate Episode titled "Should Christians Embrace the Big Bang? Host Julie Roys wrapped it up with the following two questions:
 – How important is this for Christians to deal with?
– Why do you think it's important?
Dr. Danny Faulkner, Author,  Distinguished Professor Emeritus, retired and now on staff with Answers in Genesis and its Creation Museum responded:
"I believe it's important because it's a Foundation of scripture integrity. What does the Bible say, what does God say, what does it mean to us?
True, but Dr. Faulkner misses the elephant in the room. Dr. Hugh Ross, Astronomer and best-selling author responded:
"Well notice that the time of creation is not in any of the biblical creeds. What's important is who creates and how he creates. And this is what's exciting about big bang cosmology. It identifies the who as the God of the Bible, it identifies  his creation intervention just like the Bible says.  I don't think we should get hung up on the when."1
Dr. Ross' answer not only misses the elephant in the room, but it is also very misleading.  Why do the biblical creeds not mention the time of creation? (More importantly the duration.) Because that is not one of the issues they were dealing with at the time. In the first few centuries after Christ's resurrection, the church was besieged with Christological issues – docetism (Christ only seemed to have a body but was really just spiritual), gnosticism (a whole range of errors regarding God from which we get the phrase "children of a lesser god"; errors regarding Christ;  and the nature of good and evil), monophysitism (Christ had only one nature), and so on. So they were concerned with clearly and correctly defining who Christ was – that he was "very God from very God" (from the Nicene Creed) and "one person with two natures" (From the Definition of Chalcedon). The Nicene Creed was written in 325 AD; the definition of Chalcedon was written in 451. The issue of the length of creation didn't come up until needed for evolution, and Darwin didn't publish "Origin of Species" until 1859.  So of course the creeds don't deal with that.
Dr. Ross also states big bang cosmology identifies the who of creation as the God of the Bible. Really? Perhaps he should tell that to Continue Reading