With the teaching of evolution rampant, there should be no surprise that teens have taken the lawless message of survival of the fittest to heart. 

It's happened again. This time in South Carolina. In a house of God. A youth barely out of his teens has slaughtered multiple people in a mass shooting. The particulars: a lone white gunman kills 9 black people engaged in Bible study and prayer in one of the nation's oldest African American churches in South Carolina  after he had watched the prayer meeting that was underway. In his report following the incident, Fox news commentator Bill O'Reilly notes the shooter was "apparently a long time racist, wearing anti-black patches on his clothing. Those who know him say he often made inappropriate statements about African Americans.1" The gunmen reportedly said "he had to kill" the innocent black attenders.
This type of mass shooting by a youth is merely one incident in a now familiar series, with incidents recurring ever more frequently. From the 1999 Columbine High School shooting in Colorado, where 15 where killed by two students; to the 2014  Corpus Christi Catholic College incident in Leeds, West Yorkshire, England where a 61 year old teacher was stabbed and killed by her student.2 These incidents are beginning to show a distinct and disturbing pattern: the perpetrators are highly influenced by the poisonous doctrine of evolution.
Evolution's Evil Eggs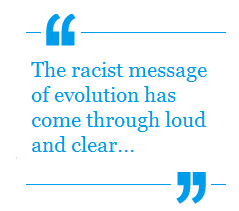 What evolutionary doctrine could possibly drive students to commit mass murder you may wonder? While the entire evolutionary worldview is problematic, the following two evolutionary lies combine to help form a mindset that sees no problem – moral or otherwise – with murdering whomever they see fit (or unfit as the case may be.)

Evolutionary lie number 1: There's no such thing as evil
As I noted in a previous post on the problem of evil, evolution teaches that there is no such thing as objective morality, right or wrong, and in particular no such thing as evil. This is not a veiled, hidden teaching, but rather one that is acknowledged and embraced. Consider the following: