The Fall of Lucifer




Antonio María Esquivel y Suárez de Urbina, 1840

Paradoxically, the problem of evil is proof that God exists.
On Friday, December 14th, 2012 a gunman who shall remain unnamed so as to deny him any further fame, entered the Sandy Hook Elementary School in Newton Connecticut, and shot and killed 20 students and 6 adults. Before driving to the school for the rampage he had killed his mother, and when finally confronted, he killed himself bringing the death toll to 28. In a news conference that same day, Gov. Dannel Malloy summed it up succinctly: "Evil visited this community today". 
This article is being written, as it turns out, on the 20th anniversary1 of the Oklahoma City Bombing on the Alfred P. Murrah Federal Building which killed 168 people and caused 680 nonfatal injuries. Additionally it caused an estimated $652 million in damages.
These are but a couple of drops in a sea of evil that in one way or another touches the lives of every single human being that lives and has ever lived. This curse upon humanity is paradoxically an affirmation of the truth of God for Christians, while for those unwilling to believe,  it becomes a reason (in their mind) why they shouldn't believe God exists. Why is it that people can look at the same evidence and come to diametrically opposed conclusions? How can consideration of a single issue – in this case the existence of evil – result in such radically different reactions and beliefs from people? One might ask the same questions of a phenomenon at the other extreme of the moral continuum – miracles.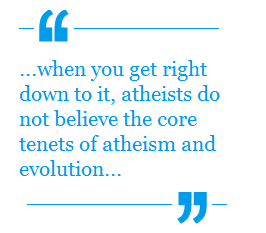 Why do miracles cause some to believe, while others only see in them only something to either scoff at or be angry at; or to make accusations that people are being "misled"?  In both cases (reactions to the problem of evil and the reaction to miracles) the root cause is the same: an unwillingness to acknowledge God as Lord who will bring all created things under his control and under his judgment.
The mere  thought of God as Lord manifests itself for many as statements of unbelief.  As particles in the atmosphere are the core around which moisture coalesces to form rain drops or snow, likewise miracles and the problem of evil  are items around which unbelief can coalesce and be visibly expressed.

For those living in disobedience the prospect of a God who will judge all is a scary one. And their unwillingness to face this truth is not because of their ignorance of God – no God has made his existence plain to all (Rom 1.19).  No, it's not ignorance of God that's the problem, it's an unwillingness to be subject to God that causes them to express views inconsistent with their worldview, and thus speak as a hypocrite or express irrational view (or both) as we'll see. Continue Reading